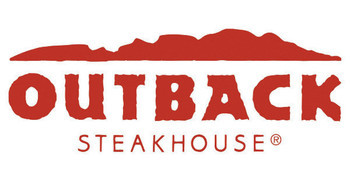 Outback Steakhouse
Outback Steakhouse starts fresh every day to create the flavors that our mates crave. Outback Steakhouse is best known for grilled steaks, the Bloomin' Onion and a wide variety of chicken and seafood. We also offer a wide variety of crisp salads and freshly made soups and sides. New creations and grilled classics, such as Victoria's Filet Mignon and Perfectly Grilled Salmon, are made from scratch daily using only the highest quality ingredients sourced from around the world.
We welcome you for a great time out, we're open for lunch and dinner! Or join us for a Bloomin' Great Happy Hour and if you can't stop by to see us, order online and we will be happy to serve you in our Curbside Takeaway!
Now earn up to 50% off every fourth visit by joining Dine Rewards™ at www.dine-rewards.com. For more information, please visit www.outback.com.
Kissimmee:
7804 W. Irlo Bronson Hwy., 34747
407-396-0017
895 W. Osceola Pkwy. #300, 34741
407-931-0033
New Location:
2701 E. Irlo Bronson Hwy., 34744
Orlando:
8195 Vineland Ave., 32821
407-477-0098
4845 S. Kirkman Rd., 32811
407-292-5111
8351 International Drive, 32819
407-351-5482
6845 S. Semoran Blvd., 32822
407-362-9146